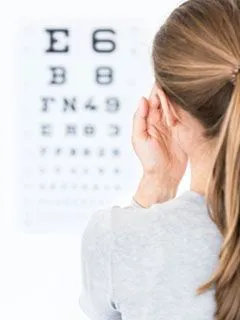 Professional Eye Examinations
We provide thorough vision and eye health examinations for children, adults, and seniors. The American Optometric Association recommends a complete eye exam yearly for all patients. Eye examination is recommended more frequently for patients who have systemic illness such as diabetes and hypertension.
Our basic examination fee includes a dilated eye examination which allows the doctor to perform the internal eye-health examination in 3-D. Instead of a flat picture of the back of the eye, the doctor gets a three dimensional image of the inside of your eye to help ensure good eye health and prevent blindness. We have state-of-the-art equipments including digital fundus photography, computerized visual field testing, and autorefractor visual acuity testing to help diagnose and manage your eyes to the fullest.

Optical Services
EXCLUSIVE ONE YEAR LIMITED WARRANTY AND ONE HOUR SERVICES
When you purchase eyewear from Preston Eye Center, you can be sure it is of the finest quality available. That's why we back our frames with a ONE YEAR warranty. If your frames break, under normal wearing conditions, we'll repair or replace them free of charge. All lenses may be replaced once during a 12 months period should scratches occur.
Our in-house lab is able to cut most lenses within one hour. In some special cases, it will only take a few business days for us to order the lenses. Quality and speedy services are always our top priority.

Contact Lenses
All of our contact lenses are backed with our Guaranteed Contact Lens Success Program. We guarantee the vision, the comfort and the health of your eyes when you wear contact lenses from Preston Eye Center. If you experience any problems with contact lenses from our office, we will buy them back in the first three months - no questions asked.

Dry Eye Treatment
Is there a treatment for Dry Eye? If Dry Eye is left untreated, the result may be that symptoms intensify, making daily life unpleasant, or worse, visual acuity may deteriorate. Depending on the intensity of the condition, treatment may be as simple as using artificial tears a few times a day. In more persistent cases, however, a simple NON-SURGICAL procedure is available that provides long-term relief of Dry Eye Syndrome through the use of tiny plugs called "punctal occluders." As the name suggests, these devices occlude (block) the punctum, or tear duct, which is the drainage duct that carries tears away from the surface of the eye. Blocking these drainage ducts prevents tears from draining away more quickly. Many medical insurances would cover for this procedure, please contact our office to find out more.

Diagnosis and Treatment of Eye Diseases
At Preston Eye Center, we provide comprehensive care for many eye diseases. Some of these diseases includes: Glaucoma, Age-related macular degeneration, Diabetics and hypertensive retinopathy, Eye infections, Dry eyes, and many more.
Our office have state of the art equipments to diagnose and treat these diseases effectively such as visual field analyzer, fundus camera, and many more.

Laser Vision Correction (LASIK) and Cataract Co-management

Safety Eyewear
---